Crowd Control and Management in MICE and Beyond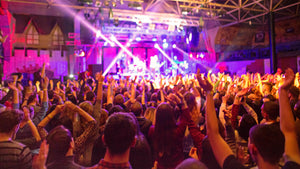 The MICE (Meetings, Incentives, Conferences, and Exhibitions) industry, inclusive of convention centers, exhibition centers, and conference centers, remains a beehive of activity. With events bringing a significant number of attendees, the challenge lies not just in managing the crowd but also in providing an optimal experience. Enter crowd and queue safety equipment like steel barricades, stainless steel queue managers, and velvet ropes. These equipment aren't merely there for decor; they play a crucial role in crowd management, the sense of order and the overall experience for attendees.


The Vital Role of Crowd Control Steel Barricades and Stainless Steel Queue Managers / Queue Poles
With the importance of these equipment highlighted, it's essential to delve into their practical applications within the MICE industry.
Their role goes beyond the realm of decor and aesthetics, delving into the heart of event operation, VIP and attendee experiences.

While steel barricades (or crowd control barricades) and stainless steel queue managers (or queue poles or stanchions) are commonly seen objects in these settings, the integral roles they play in crowd management often go unnoticed.
Let's explore these roles in depth. 
Crowd Safety Steel Barricade: The Ultimate Crowd Control Tool
Safety remains paramount, especially in larger venues like concert venues and VIP events. The steel barricade is not just reliable; it's a solid line of defense against potential crowd-related mishaps when it happens, while protecting your VIP clients and their event.
It ensures hundreds and thousands and attendees are secured, venue staff can manage the influx, and exits of people in need of help are easily accessible in emergencies. 
Crowd Management: Create Safe Space
Crowd management extends beyond the barriers. It's an art, a science, and a responsibility for the venue and security staff. During an emergency, safe spaces has to be available for both the staff and for any person-in-need of help. 
A proper crowd control barricade not only segregates crowds, staff and VIP performers, they should have step-on that allow for staff to observe for any incident should it happen, and allow for immediate exit of any attendee over the barricades easily into those safe spaces.
This is vital support by the event organizer especially when crowd collapses or crowd crushes happen.
The management of the crowd is not limited to directing attendees but encompasses observing their needs, ensuring safety, and creating a seamless experience. 
Queue Manager Stand / Queue Pole: The Unsung Hero
Every successful event, from pre-event ticketing, goodie bag collection, to on-the-day concerts and exhibitions in convention centers, hinges on smooth processes. The queue manager or queue pole, often seen as just a pole and rope, plays a pivotal role here.
These posts, whether they're stainless steel or adorned with belts or velvet ropes, provide the necessary guidance with added signage topping them off, ensuring visitors move efficiently and safely. 
Stainless Steel Queue Manager / Queue Pole: Elegance meets Efficiency
When thinking about crowd control, airport and bank often come to mind. In these settings, the stainless steel queue manager or queue pole that stands out, not just for its sheen but for its design and finishing that can improve the ambiance of the service environment.
This equipment is not limited to managing queues in convention centers or banks but extends to venues like hotels and even trade shows, ensuring that customers wait in an orderly fashion. 
Well-Invested Assets for Effective Crowd Control
The necessity of effective crowd control as part of any event operational process, especially in MICE venues, cannot be understated.

As the industry continues to grow, especially in booming markets like South-East Asia, Middle East and India, the assets we adopt for managing crowds, from the crowd control barrier to the stanchion humble velvet rope, will undoubtedly shape and lead the future of events, MICE event safety and being a responsible venue owner and organizer.

Event planners, team members, and venue staff need to understand this dynamic, adopting reliable equipment that's not only easy to deploy but also easy to store and maintain for the facility manager, but also allow for practical crowd safety control on the ground without disrupting the attendee experience. 
Contact our sales team via sales@novoxinc.com to discuss your custom crowd management and queue management equipment with our professionals. We can ship to any market in the Indo-Pacific.

To discover new designs of our Novox® brand of complete furniture and equipment range to suit your hospitality and venue business of different styles and choices, do check out our products online. We also have a unique collection of designer stanchions.

To find out more about customization StageRight™ Crowd Control Barricades, go to StageRight™ Staging Solutions catalog page and request a catalog here or head down to our Singapore showroom, and we are happy to demonstrate their functionalities with our local clients. StageRight™ professionals will provide direct consultation on your venue space planning and your equipment needs.