Elevate Your Hotel Restaurant Experience with Designer Buffet Table Top Food Display Ware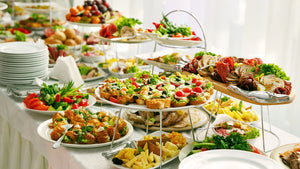 For hotel restaurants and F&B hospitality settings aiming to provide an unforgettable experience, the buffet table top is more than just a functional space — it's a canvas for culinary art. To truly impress, consider adding designer food display ware to your collection. In this blog, we will guide you through why designer ware is a must-have and how you can seamlessly integrate it into your setup, based on your needs and style.


Why Choose Designer Buffet Table Top Food Display Ware?
Aesthetic Appeal
From marble serving plates to silver chafing dishes, designer pieces add a touch of luxury. Each piece is a style statement in itself, making your buffet table a focal point that guests will admire and remember.
Functionality Meets Design
When it comes to serving bowls, plates, or bread baskets, functionality is key. Designer ware offers not just style but also ergonomics, ensuring that your dishes remain at optimal temperatures while being visually appealing.
Durability and Quality
With renowned brands focusing on using materials like metal, ceramic, and glass, you can expect your serving dishes and platters to last, thus offering good value for your investment.
Types of Designer Display Ware to Consider
Chafing Dishes
Opt for stainless steel or silver chafing dishes that exude an aura of elegance. These dishes are perfect for keeping your hot servings at the right temperature.
Fruit Bowls and Bread Baskets
Consider fruit bowls or bread baskets made from materials like metal, and ceramic or food-safe glass. Their unique designs add a whimsical element to your table setup.
Innov™ Round Collection – Designer Fruit Bowl / Holder
Serving Bowls and Plates
Glass and ceramic serving bowls and plates are ideal for salads and desserts. They allow the vibrant colors of your food to shine through.
Cake Stands and Serving Platters
Display your desserts on designer cake stands that are functional yet stylish. Coordinate these with serving platters that fit your overall theme.
Innov™ Curve Collection – Designer Cake Stand
Innov™ Arabic Collection – Designer Raisers / Serving Platters.
Trays and Additional Designer Table Top Items
Don't overlook the importance of trays in your buffet setup. Whether made from brown wood or polished metal, trays are functional pieces that can also contribute to your aesthetic.
Innov™ Hexagon Collection – Designer Condiments Holders / Mini Shelf Storage
Choosing the Right Pieces
Theme, Material and Color Scheme
Stick to a consistent theme. Whether your establishment exudes white minimalism or more rustic, natural brown or grey tones, make sure to choose pieces that align with your existing décor.
Size and Dimensions
Always check the dimensions (cm) before adding items to your cart. Use filters on our website to find the perfect fit based on your table size.
Designer F&B Hospitality Experiences
In today's competitive F&B landscape, the right buffet table top food display ware can make or break the guest experience.
With a wide range of options from different brands, styles, and materials like ceramic, metal, and glass, making a choice can be overwhelming.
However, once you filter your options based on your needs, budget, and style, you can easily sort and add the best pieces to elevate your setup.
Contact us via sales@novoxinc.com today to find out how our uniquely designed buffet table top items can help enhance dining experience. Along with our designer, we can discuss and choose our desired custom designer wares that is perfect for your hotel restaurant space.
We have our manufacturing centers and can ship to any city such as Dubai, Abu Dhabi, Riyadh, Jeddah, Doha, New Delhi, Singapore, Kuala Lumpur, Bangkok, or any country market in the Indo-Pacific.
To find out more about our Innov™ designer hotel furniture and table top wares for hotel restaurants, request a catalog here or head down to our Singapore showroom to view the beauty of our designer furniture collection and other furnishing product range for any hotel and restaurant business. Do also check out our list of established clients of hotels, meeting venues, and restaurants reference.