Elevate Your Venue's Elegance with Flexible Backrest Banquet Chairs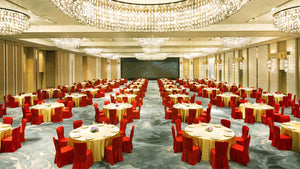 When it comes to creating a memorable and luxurious atmosphere in hotels, restaurants, convention centers, and private social clubs, every detail counts. From the lighting to the décor, everything should contribute to the overall ambiance of the venue. One often-overlooked element that can significantly impact the comfort and aesthetics of your space is the choice of banquet chairs. Novox Inc. understands the importance of this choice, which is why they have introduced the Novox® Action Back Collection Banquet Chairs with flexible backrests. In this blog, we will explore how these banquet chairs can elevate your venue, focusing on custom design options in terms of colors, finishing, custom fabric, and cushion foam density.

The Flexible Backrest Difference: Action Back Collection Banquet Chairs

Novox Inc. has a reputation for delivering high-quality, stylish, and functional seating solutions for various hospitality and entertainment settings.
The Novox® Action Back Collection Banquet Chairs are no exception, offering the best in comfort to your hospitality spaces' needs. These chairs are designed to combine comfort and elegance seamlessly, making them the perfect choice for banquet chairs in hotels, restaurants, convention centers, and private social clubs. One standout feature that sets these banquet chairs apart is their flexible backrest.
This innovation for sitting-back support ensures that your guests can enjoy an ergonomic and comfortable seating experience, making it an excellent choice for venues where guests spend extended periods.
Novox® Action Back Collection banquet chairs are among the most comfortable conference chairs for hotels available, making long meetings or events a breeze.
The design of the Action Back banquet chair's flexible back support is the most non-conventional, most comfortable banquet chair in the industry. Also good to use as meeting room chairs for hotel or conference center's meeting rooms.

Custom Banquet Chair Design Options

One size does not fit all when it comes to banquet chairs.
Novox Inc. understands this and offers a wide range of custom design options to suit your venue's specific needs and aesthetic preferences.
You can select your custom fabric from a variety of chair frame colors, finishing and tubing shapes, as well as fabric material and colors ensuring your banquet chairs seamlessly blend with your décor.
Novox® Banquet Chair Action Back Collection – 4213S & 4216S.
Novox Inc. provides various chair frame finishing options, including matte, gloss, and metallic finishes, allowing you to tailor the look of your chairs to your venue's style.
With a range of cushion foam densities available, you can adjust the seating comfort to meet individual needs, whether it's plush seating for a more relaxed atmosphere or firmer seating for formal events.
Versatile Applications

The Novox® Action Back Collection Banquet Chairs from Novox Inc. are versatile and suitable for a wide range of venues, including hotels, restaurants, convention centers, and private social clubs.
These chairs are designed to serve different functions, from formal events to casual gatherings. Their ergonomic design ensures that your guests stay alert and comfortable throughout meetings, conferences, or social events.
Novox® banquet chairs are crafted from durable materials, ensuring they withstand the test of time in busy hospitality environments.
This durability ensures that your investment in these chairs pays off, as they will remain functional and stylish for years to come.
Your Unique Custom Comfort & Style for Your Hospitality Space

When it comes to creating a captivating ambiance in your hotel, restaurant, convention center, or private social club, choosing the right banquet chairs is essential.
Novox® Action Back Collection Banquet Chairs with flexible backrests offer a perfect blend of style, comfort, and customization options. With the ability to choose from a wide range of colors, finishes, custom fabrics, and cushion foam densities, you can ensure that your chairs align perfectly with your venue's aesthetic and seating requirements.
Elevate your venue to new heights of elegance and comfort with Novox® banquet chairs. Novox® provides the ideal seating option for you whether you're going for a timeless and traditional aesthetic or a modern and striking design.
The small details will be noticed by your visitors, and you'll establish a setting that makes a lasting impact on everyone who enters.
Invest in Novox® banquet chairs to enjoy healthier sitting and more efficient meetings while catering to individual needs.
These chairs are not just pieces of furniture; they are essential elements that enhance the overall experience of your venue, making it a place where comfort and style meet.


Get in touch with our dedicated sales team today at sales@novoxinc.com to initiate a discussion about designing custom banquet chairs specifically tailored to your hotel ballrooms and banquet halls. Work together with our talented designers to realize your desired guest experience.
We operate manufacturing centers and have a dedicated export office strategically positioned to facilitate shipping to major cities such as Dubai, Abu Dhabi, Riyadh, Jeddah, Doha, New Delhi, Singapore, Bangkok, and various markets across the Indo-Pacific region. For a glimpse into the diverse and innovative designs offered by our renowned Novox® brand, explore our comprehensive range of furniture and equipment products online. Whether your hotel or resort follows contemporary aesthetics or values sustainable classics, we have a collection that suits your style.
To access our complete catalog of Novox® hotel furniture and equipment, simply download here from our website. Alternatively, you can experience the quality and functionality of our furniture and hotel equipment firsthand by visiting our Singapore showroom here The members of our staff would be happy to highlight the many features and abilities of our goods.
Please browse our reference list of prestigious clientele, which includes hotels, meeting spaces, and restaurants, who have put their faith in our goods and services as you think about working with us.