Royal Collection Banquet Chairs: A Perfect Fit for High-End Hotels, Meeting Rooms & Convention Centers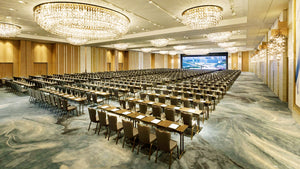 When it comes to elevating the guest experience in high-end hotels, meeting rooms, and convention centers, the quality is in the details. In a landscape where customer satisfaction can vary based on numerous small components, the choice of banquet chairs is crucial. With a range of style options and unmatched durability, Novox® Royal Collection Banquet Chairs offer more than just seating; they offer an experience. In this blog, you will find the details you need to make an informed selection of dining chairs for your venue.


Durability That Stands the Test of Time: The Frame Material That Lasts

When sorting through options for banquet chairs, durability should be at the forefront of your considerations. Constructed from top-grade aluminum, the frame material of the Novox® Royal Collection Banquet Chairs ensures longevity and durability, perfect for the heavy use typical in meeting rooms and dining areas. 
Why Durability Matters

Longevity Equals Savings

High-quality chairs mean fewer replacements, positively impacting your bottom line when it comes to prices. 
Consistency in Aesthetics

A durable frame material ensures the chairs maintain their pristine look, offering consistent style across events. 
Commercial Warranty: More Results, Less Worry

When considering the prices of your banquet chairs, the warranty can tip the scales. The warranty that backs Royal Collection chairs assures you of their durability, promising more results in terms of customer satisfaction and long-term use. 
Customization: The Color and Back Style Options That Make a Difference

Color and back style are important components when selecting dining chairs for your establishment. The Royal Collection offers extensive customization options, from frame material and fabric to back styles, colors and finishing, designed to fit seamlessly with your venue's existing decor. 
Why Customization is Crucial

Brand Identity

Customization options help in creating a unique style, thereby reinforcing your brand identity.

Exclusive Experience

These tailored dining chairs provide a unique atmosphere that can't be replicated, making your venue stand out.
Ultimate Comfort for Meeting Rooms and Dining Areas: The Details That Count

Whether it's a formal event in a meeting room or a gala dinner, comfort is a non-negotiable component. Some of these chairs are ergonomically designed to offer more plush comfort, featuring cushioning that adapts to the body's contours. 
Why Comfort is Non-Negotiable

Enhanced Guest Experience

Comfort in dining chairs and banquet chairs ensures happier guests who are likely to return.
Broad Utility

The range of comfort options makes these chairs suitable for all types of events, from meetings to banquets.
Easy Maintenance and Stackable Storage: Designed for Operational Efficiency

Time is of the essence in the hospitality industry, and easy-to-maintain and stackable banquet chairs can offer more results in operational efficiency. The Royal Collection chairs are crafted with stain-resistant materials, making maintenance easy. Moreover, their stackable nature ensures efficient use of storage space. 
Why Ease of Maintenance and Storage Matters

Operational Efficiency

Easy and stackable storage options allow for efficient use of space, a vital factor where square footage is at a premium.
Optimized Space

Stackable chairs also offer flexibility in adapting to different event sizes and types.
In a Sea of Choices, The Royal Collection Stands Out: Final Thoughts

In a market flooded with items that promise to fulfill your needs, the Novox® Royal Collection Banquet Chairs stand in a league of their own.
With their unparalleled durability, backed by a rock-solid warranty, and a range of style and comfort options to choose from, these chairs are not just an item in your inventory; they are an investment in quality.
From meeting rooms to lavish banquet halls, they offer the flexibility and reliability that every high-end venue requires. When you are looking to find chairs that offer both style and substance, the Royal Collection is the go-to option.
From frame material to back style, and from color options to stackable features, every detail has been designed with luxury and practicality in mind.
In terms of both style and results, these chairs are the epitome of what high-end seating should be. With a wide selection of colors, back styles, and other details to choose from, you're not just buying chairs; you're choosing the best in class.
So when the aim is to provide an experience that leaves a lasting impression, remember that every detail counts, and in the realm of details, Novox® Banquet Chairs excel.

Contact our sales team via sales@novoxinc.com to discuss your custom banquet chair design for your hotel ballrooms and banquet halls with our designers. We have our manufacturing centers and can ship to any city such as Dubai, Abu Dhabi, Riyadh, Jeddah, Doha, New Delhi, Singapore, Bangkok, or any country market in the Indo-Pacific.
To discover new designs of our Novox® brand of complete furniture and equipment range to suit your hotel and resort business of different styles, do check out our products online. We have a full range collection of contemporary designs as well as sustainable classics.
Download our Novox® hotel furniture and equipment catalog for hotel furniture here or visit our Singapore showroom here and allow us to demonstrate our furniture and hotel equipment functions and show you its quality. Do also check out our list of established clients of hotels, meeting venues, and restaurants reference.