Creating Memorable Outdoor Dining Experiences with Mobile Buffet Stations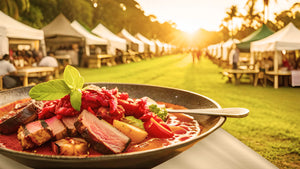 Alfresco gatherings offer a delightful opportunity to unite people amid the splendor of the outdoors. However, crafting an unforgettable dining experience can pose quite a challenge. The excellence of catering, presentation, and service stands as the linchpin in etching enduring memories into the minds of your attendees. To transcend the ordinary and make your outdoor dining occasions truly exceptional, immerse yourself in the innovative realm of mobile buffet stations. To elevate your outdoor dining experiences, consider the remarkable world of mobile buffet stations.


Elevate Your Event with Buffet Tables
Buffet tables (buffet stations with flat, plain tops)might be your greatest ally for outdoor dining.
These adaptable pieces of furniture provide a variety of options, enabling you to serve your guests a delicious spread of meals. Buffet tables provide the room and versatility to display your culinary masterpieces, from appetizers to main dishes and desserts.

Customized Buffet Stations for Your Event
Buffet stations or buffet tables, make it easy to find the perfect fit for your event.
If you're hosting an intimate gathering or a large-scale celebration, you can choose to have a mix of buffet stations and buffet tables that match your gourmet-guest requirements and event theme. With options ranging from 2 to 6 buffet stations/tables, with bridging connecting panels, you can create a stunning buffet setup that suits your need.
Seamless Mobility with Any Mobile Buffet Station
The beauty of the modular buffet system of mobile buffet stations lies in their modularity and portability. These stations can be easily moved from indoor to outdoor, ensuring that your buffet setup remains flexible.
Innov™ Panel Collection – Designer Modular Buffet System of Buffet Stations and Buffet Tables (Far Side). Different Straight or Curved Front/ Back Panels are available.


When you need to adjust to changing weather conditions or accommodate your guests' preferences, mobile buffet stations have got you covered.
Stainless Steel Buffet Counters for Durability and Modularity
The buffet station or buffet counter is the heart of your outdoor dining setup. It's where your guests will gather to enjoy their meals.
To ensure longevity and durability, the construction of the buffet station should be metal; consider stainless steel buffet counters and the finishing of the frame should be well polished.
There should be lower shelvings with room for storage of cooking utensils and food ingredients.
With live cooking or serving top module options ranging from induction top, and carving/cutting board, to grill plates to bain-marie, you can select the right size to accommodate your chef's fresh meal preparation for your guests.
Innov™ Panel Collection – Hot/warm modules (From top-left, clockwise): Induction Wok top, Grill (Teppanyaki/ Flat Griddle) top, Induction top, Carving top, Bain-Marie top and Noodle/Pasta top.


The buffet station or counter's assembly required is easy and efficient. You can also switch your modules with ease when changing to another dish preparation and cooking.
Serving Stations and Live Cooking
To create a dynamic dining experience, you can consider incorporating additional side stations beside the buffet counter as serving stations for prepared dishes by the plate, or dining wares, cutleries or napkins
Innov™ Panel Collection – For the sides of the Buffet Station, there is the choice of the Side Stations with its Front Panels or the choice of Side Panels.


Other serving stations include stations for beverages or any dessert, wine or beer bar counters and other live cooking elements in your outdoor event. Live cooking stations can add an interactive and engaging aspect to your buffet.
These stations allow your guests to witness their meals and drinks being prepared right before their eyes, adding a memorable touch to the event.
Food Warmers / Chillers for Temperature Control
Maintaining the perfect serving temperature for your dishes is crucial for outdoor events.
Food warmers, with options from warmers, cooling chillers, ice trays or refrigerated displays, ensure that your food stays hot or cold and appetizing throughout the event.
This guarantees that your guests enjoy each bite to the fullest
Innov™ Panel Collection – Cold/chiller modules (From top-left, clockwise): Ice Tray (for seafood) top, General 1/3 (Chiller) top, Chocolate Fondue top, Sashimi Refrigerated Display top and Ice Cream Refrigerated Display top.


Unique Buffet Counter Design and Stylish Buffet Table
There are countless opportunities to design exceptional outdoor dining experiences with mobile buffet stations.

You may tailor your arrangement to meet the design and functionality of your event, choosing from serving stations, live cooking stations, stainless steel buffet countertops, and buffet tables to serve meals at.
Whether you're holding a wedding, a business event, or a community dining event, you can wow your guests with the appropriate equipment. The buffet station assets you use to make an eye-catching display, your guests' tastes, and your original ideas are ultimately what counts the most.
So, have a look at the many alternatives available and let your imagination run wild.
With Innov™ designer mobile buffet station and buffet tables, your outdoor dining event is bound to be an appealing hit, leaving your guests with cherished memories and a taste of excellence.
Meet and explore with our team via sales@novoxinc.com today. We can discuss how to match your budget and explore solutions designed to fit the buffet experience in terms of functionality and style. We aim to design and custom-build your desired hospitality furniture delivered for you in Singapore or any Indo-Pacific hospitality industry market beyond.
We operate manufacturing centers and have a dedicated export office strategically positioned to facilitate shipping to countries such as Saudi Arabia, United Arab Emirates, Qatar, India, Thailand, Vietnam, Philippines and various markets across the Indo-Pacific region.

To find out more about our existing Innov™ mobile buffet stations, buffet nested tables, modular buffet system, mobile beverage station, or more, request a catalog here or head down to our Singapore showroom to see the beauty of our designer buffet furniture and equipment products.
Please browse our reference list of prestigious clientele, which includes hotels, meeting spaces, and restaurants, who have put their faith in our goods and services as you think about working with us.