The Different Types of Buffet Stations and What They Offer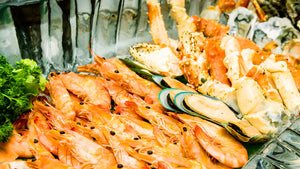 When you think of a buffet, what comes to mind? Most likely, you picture a long line of people waiting to get their hands on some delicious food. Buffet stations have become increasingly come back in demand recently, and for good reason — they offer a great variety of food options for guests with a live experience. But what are the different types of buffet stations? And what do they offer? In this blog post, we will take a closer look at the different types of buffet stations and what they have to offer.


What is a Buffet Station?

Buffet stations have been a popular choice for hosting events and gatherings for many years. With the wide range of options available, these stations can be customized to suit the needs and preferences of the host and guests.
Whether you're looking for a traditional setup or something more unique and interactive, there's a buffet station that's right for you.
Buffet Tables

Buffet tables are the most common type of buffet station and are typically found in restaurants and small events.
These tables offer guests a variety of hot and cold side buffets, such as salads, desserts, and condiments, allowing them to easily find what they're looking for and enjoy their meal without having to wait in a long line.
The Innov™ Grand Collection Designer bridging Buffet Tables are nestable.
The setup is efficient, allowing for an easy flow of guests, and provides a large selection of food choices placed on buffet plates. Each dish's turnover is low and the pickings are for variety's sake, ensuring that the cuisine remains fresh and appetizing throughout the event.
These buffet tables can be set up using standard banquet tables (however, requiring skirting) or stylish nested tables (which can change their surface display area and be nested easily), depending on the size of the event and the available space.
Live Cooking Station

Live cooking stations are another popular option for those who are looking for a more interactive and tailored experience. This type of buffet station features chefs who prepare cuisine on the spot, allowing guests to customize their meals with fresh ingredients and tantalizing flavors.
The Innov™ Arabic Collection Designer Buffet Stations are each specialized live cooking station.
This service setup is perfect for larger events and provides entertainment and interaction with the guests, who can choose what they would like to have cooked in front of them.
Additionally, the live cooking station provides an olfactory experience, which is one of the first senses to be attracted to food, making it a memorable experience for all involved.
Modular Buffet Systems

Modular buffet systems offer a great deal of flexibility in terms of space and design. This type of buffet station consists of several modular units that can be combined and arranged to fit the needs of each event.
The Innov

™

Cube Collection Designer Modular Buffet System — each modular unit can be a standalone cocktail table.

For example, a modular buffet system can include separate hot and cold buffet lines, self-serve stations, or buffet tables and counters for buffet-style dining.
This setup is perfect for those who need to maximize their space, as it can be adjusted to fit any size room or area. It also allows for customization, giving guests more options and variety in terms of cuisine selection.
Live Food Stations

Live food stations are a great way to make buffet-style dining even more interactive. This setup includes live cooking and preparation of food, or ready food that is warming under a hot lamp, such as sushi, tacos, pizza, roast carving, and other items that require assembly or customization on the spot.
Usually, this type of station will have a heating system to keep food warm or a chill system to keep food cooling and fresh.
This type of buffet station provides an experience like no other and allows guests to customize their meals with fresh ingredients and tantalizing flavors.
Additionally, it adds a touch of entertainment and surprise to any event, as the live food station can be set up with unique decorations or props.
Beverage & Dessert Stations

Beverage and dessert stations are a great way to provide guests with a variety of refreshments or desserts. These beverage stations include mobile bars that can be used for beer, wine, spirits, soft drinks, and even specialty drinks like coffee or tea.
Top: The Innov™ Standard Designer Collection Nestable Buffet Tables, Beverage & Dessert Stations. Bottom: The Innov™ Basic & Grand Collections Designer Mobile Bars

These buffet stations typically feature hidden shelves where the drinks are stored and dispensed, or shelving for placing individual glasses or coffee/tea saucers.

Live Station Catering / Food Carts

Live station catering or food carts are live stations that are ideal for those who prefer a more laid-back and convenient buffet experience. This type of buffet station is independent, portable, and versatile cart/station that can be set up in any indoor or outdoor space, so guests can come to make a quick order or simply pick up the cuisine they wanted.
The functional setup includes a variety of dishes that are prepared on the spot, such as street tacos, crepes, and salads. The carts are decorated with colorful decorations and props to create a festive and inviting atmosphere depending on the event or interior theme. It can be used for beverages as well.
This buffet station is perfect for those who don't want to spend too much time waiting in line at the buffet table, as guests can come and go as they please without having to wait for their food.
Conclusion

No matter what kind of buffet station you choose, it's important to ensure that your guests have an appealing variety of options available. From buffet nested tables and live cooking stations to modular buffet systems and beverage stations, there are several types of buffet stations to choose from.
By offering a variety of options, you can ensure that your guests are provided with enjoyable and memorable buffet experiences with endless possibilities. So, take the time to explore the different types of buffet stations and find one that best suits your event or hospitality venue needs.


Meet and explore with our team via sales@novoxinc.com today. We can discuss to match your budget and explore ideas designed to fit the buffet experience in terms of functionality and style. We aim to design and custom-build your desired hospitality furniture delivered for you in Singapore or any Indo-Pacific hospitality industry market beyond.
To find out more about our existing Innov™ buffet stations, live cooking stations, buffet nested tables, modular buffet system, mobile beverage station, or more, request a catalog here or head down to our Singapore showroom to see the beauty of our buffet furniture and equipment products.