The Benefits of Nestable Buffet Tables: A Game-Changer for Hotel Restaurants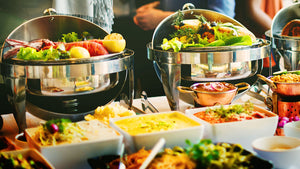 If you are looking for a way to improve your hotel restaurant's dining experience, consider investing in some buffet tables. Buffet tables provide guests with a convenient place to serve themselves food, and they can be used to create an intimate or casual dining atmosphere. In this blog post, we will discuss five types of tables for buffets that will make your hotel restaurant stand out from the competition.
An Essential Furniture – The Restaurant Buffet Table
Hotel restaurants that serve buffet-style meals need adequate buffet tables to display their extensive ready food options on top, fresh buffets selections from buffet stations.
Not only do these tables need to be durable and designed properly, but they must also provide plenty of space for customers to move around and easily access their favorite dishes.
This will enhance the self-service efficiency and can reduce the number of restaurant staff server needed for the restaurant.
Innov™ Line Collection – Nestable Designer Buffet Tables.
That's why it is essential for restaurants to have unique buffet table designs that fit comfortably within their dining space.
The Revolutionary Solution – Nestable Buffet Tables
Nestable buffet tables are designed with one key goal in mind: maximizing the efficiency of any given space while still providing exceptional customer experience.
Innov™ Play Collection – Nestable Designer Buffet Tables.
These innovative table solutions may offer features like adjustable height, collapsible legs, caster wheels, and modular formats that enable them to be stacked or moved around easily in order to accommodate the size and shape of any restaurant. Ultimately, these feature can save operation time and space.
The Benefits of Nestable Buffet Tables
Nestable buffet tables offer a host of advantages for hotel restaurants, including:
Maximizing Space
Nestable tables are designed to be stacked or stored away when not in use, freeing up valuable floor space. This makes it easier for restaurants to serve more customers without having to worry about overcrowding.
Streamlining Operations
The modular design and mobility of nestable buffet tables allows them to be quickly rearranged as needed, which can help streamline meal service and reduce wait times for customers.
Enhanced Customer Experience
Not only do nestable buffet tables provide plenty of room for customers to move around and access all the dishes on offer, but they also help create a more pleasant atmosphere. The adjustable height of these tables can make it easier for customers of any size or age to dine comfortably.
Unique Buffet Tables that are Well-Designed
At Novox Inc., we specialize in designing unique buffet table designs that are made for our modern hospitality events with different themes and designed with both versatility and aesthetics.
Innov™ Slice Collection – Nestable Designer Buffet Tables.
Our innovative Innov™ nestable buffet tables can be designed with features enabling them to be set up or set aside without being an eyesore.
Nestable buffet tables are a great way to ensure that customers have an enjoyable dining experience. The unique designs and features of these tables offer restaurants a chance to create memorable spaces while also optimizing their resources.
A Game-Changer for Hotel Restaurants
It's clear that sleek, nestable buffet tables are a game-changer for hotel restaurants. Not only do they benefit by helping to maximize space and streamline operations, but they also provide customers with an unforgettable dining experience with their designer look.
By investing in high-quality nestable buffet tables, hotels can ensure their restaurants stand out from the competition and keep guests coming back for more.
At Novox Inc., we offer a variety collections of unique design styles for the design of our nestable buffet tables to fit any restaurant's needs. We also have other types of buffet tables that serve your customers' experience. Explore our collections today to find the perfect solution for your unique space.
Contact us via sales@novoxinc.com today to find out how our uniquely designed buffet tables can help optimize your restaurant's operations while enhancing customer experience. Along with our designer, we can discuss and choose our desired custom furniture design that is perfect for your hotel restaurant space and budget.
We have our manufacturing centers and can ship to any city such as Dubai, Abu Dhabi, Jeddah, Doha, New Delhi, Singapore, Kuala Lumpur, Bangkok, or any country market in the Indo-Pacific.
To find out more about our Innov™ designer furniture for hotel restaurants, request a catalog here or head down to our Singapore showroom to view the beauty of our designer furniture collection and other furnishing product range for any hotel and restaurant business. Do also check out our list of established clients of hotels, meeting venues, and restaurants reference.