6 Reasons Why You Should Upgrade to Luxury Seating In Your Hotel's Meeting Rooms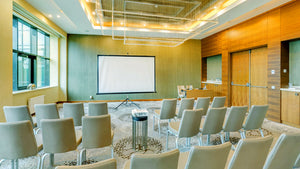 Hotels are always looking for ways to improve their guests' experience. One way to do that is by upgrading the furniture in your hotel or conference center's meeting rooms. Conference chairs and banquet chairs can make a big difference in the overall look and feel of the room. Not only will your guests appreciate the upgraded comfort, but they will also be more likely to return for future meetings. In this blog post, we will discuss six reasons why you should upgrade your hotel's meeting room seating to luxury.


1. Comfort of Conference or Hotel Chair
Luxury conference or hotel chairs are designed to provide comfort and support for long periods, especially for your hotel guests during long hours or multiple meetings within a day.
Hotel or conference chairs with ergonomic designs will help reduce fatigue for your guests, which can improve their concentration and productivity during meetings.
Ergonomically designed features can include flexible backrests, chair armrests for resting guests' arms, thicker chair seat cushions, and backrest cushions. Do also make sure the chair size of your chairs fits sliding into under size standard of your meeting or conference table?
2. Aesthetics Matching to the Style of Your Conference Room
Elegantly-designed hotel or conference chairs can create a lasting impression within your hotel's conference and meeting rooms. A quality hotel or conference chair comes in a variety of styles and colors.
Do match chair shapes, upholstery, and finishing to the existing or desired décor for an eye-catching look and feel.
When the aesthetic design of your conference tables and conference chairs does not match the interior design décor of your conference or meeting room, the event experience, and feel are perceived as a downgrade.


3. Durability of Hotel or Conference Chair
High-quality hotel chairs are designed with durability in mind, which means they'll last longer than cheaper versions.This makes luxury conference or hotel chairs a great value for money in the long run and requires lesser time for maintenance.
4. Noise Reduction Design Features
Noise control is an important factor to consider when selecting a hotel or conference chair for your conference or meeting rooms.
Luxury hotel or conference chairs often feature noise-reducing features, such as paddings at the base of chair legs, which can reduce noise due to knocking.
We also recommend hoteliers choose aluminum material for the chair frame material rather than stainless steel chair also reduces the amount of weight, and reduces drum noises, especially when the chair is on a stage.
5. Easy to Clean

Luxury hotel chairs should be easy to clean and maintain. They come in materials that can be wiped down quickly and efficiently, making them great for hotel venues with high traffic.
6. Versatility
High-end conference or hotel banquet chairs provide versatile seating solutions as they can be used in a variety of settings within a hotel, convention, or conference center within various venue facilities such as meeting rooms, hotel lobbies, restaurants, and banquet halls.
These rolling hotel desk chairs or office meeting chairs are not suitable for a full-service hotel's facilities use.


In conclusion, there are many benefits to upgrading your hotel's meeting room seating to luxury hotel chairs. Luxury hotel chairs are designed for comfort, style, durability, and ease of maintenance, making them a great long-term investment for your hotel.
With the right hotel chairs in place, your guests will be sure to have an unforgettable experience during their meetings or conferences.


Contact us via sales@novoxinc.com to discuss your hospitality furniture and equipment needs for your interior design décor. We can ship to any city such as Dubai, Jeddah, Doha, New Delhi, Singapore, Bangkok, or any country market in the Indo-Pacific.
To discover new designs of our Novox® brand of complete furniture and equipment range to suit your hotel business or meeting venue business of different styles, do check out our products online. We have a full range collection of contemporary designs as well as timeless classics.
Download our Novox® hotel furniture and equipment catalog for hotel furniture here or head down to our Singapore showroom and allow us to demonstrate our furniture and hotel equipment functions and show you its quality. Do also check out our list of established clients of hotels, meeting venues, and restaurants reference.