Crescent, Semi-Circle, and Quarter Circle Banquet Tables: Innovative Ways to Elevate Your Event Setup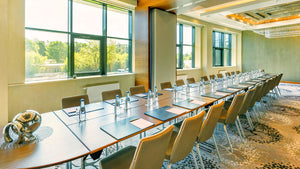 Although banquet, conference, and event managers are generally familiar with round and rectangular banquet tables, they may not be aware of the versatility and creativity that crescent, semi-circle, and quarter-circle tables can bring to event planning. In this blog, we aim to explore the unique potential of these table shapes and provide practical tips on how to incorporate them into your event setup, whether you are an event planner, a hospitality professional, or simply interested in learning more about banquet tables. Join us as we delve into the limitless possibilities that these distinctive table shapes can offer.


Crescent Banquet Table
Crescent banquet tables are a great option for small events, such as private dinners, conferences, and other gatherings. Their curved shape adds an extra level of sophistication to any event space, allowing you to create a unique atmosphere that your guests will appreciate.
What's more, crescent banquet tables can be easily arranged with folding chairs, banquet chairs, or even sofas to suit any type of event. Additionally, they provide ample space for guests to mingle and move around – an ideal solution for intimate events.
Semi-Circle Banquet Table
Semi-circle banquet tables are a popular choice for larger events, as they help create a more organized setup. This type of table shape is ideal for banquet dinners or large conferences, as it allows you to create a semi-circle seating arrangement with plenty of room for guests.
Moreover, they are perfect for group discussions and meetings; the curved shape not only offers great visibility between speakers but also provides better acoustics.
Quarter Circle Banquet Table
Quarter circle banquet tables are a great way to bring a modern and stylish touch to any event. Their unique shape allows for creative arrangements, from circular banquet tables to semi-circles or open U-shapes.
Quarter circle banquet tables are also perfect for smaller events, as they can be easily combined with other banquet table shapes to create an efficient and comfortable seating area.
Fold-and-Roll or Folding Banquet Table?
Fold-and-roll banquet tables or folding banquet tables give you the flexibility to adjust your event layout quickly and easily. With their space-saving, easily folded design, they are perfect for hotels, restaurants, or banquet halls with limited space. Additionally, these banquet tables are incredibly easy to store and transport — an ideal solution for venues that need frequent setup and breakdown.
Whether you're looking for an innovative way to elevate your banquet table setup or simply need a space-saving table solution, fold-and-roll banquet tables, and folding banquet tables are excellent choices.
Conclusion
Banquet folding tables come in many different shapes and sizes, but crescent, semi-circle, and quarter-circle banquet tables offer a unique touch to any event setup. Whether you are an event planner or a hospitality professional looking for creative ideas to elevate your setup, these special table shapes can help bring your vision to life.
Contact us via sales@novoxinc.com to discuss your hotel or venue's banquet table shape, size, and other options that are versatile for your events and guests, and easy for your operations. We can ship to India, the Middle East, or any country market in the Indo-Pacific.
Find out more about Novox®'s complete range of durable banquet tables, do check out our products online.
Download our Novox® hotel furniture and equipment catalog for banquet furniture here or head down to our Singapore office and allow us to demonstrate our furniture functions and show you its quality. Do also check out our list of established clients of hotels, meeting venues, and restaurants reference.