Enhancing Guest Satisfaction: How Front Desk Furniture and Equipment Affect Serviced Apartment Operations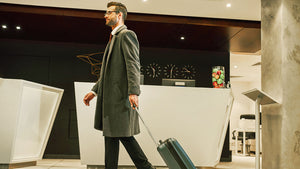 High guest satisfaction is essential to a serviced apartment's success, as positive customer experiences are vital for attracting and retaining clients. As such, it's important to equip your front desk with the right furniture and equipment in order for your property management team to deliver high-quality service. Beyond providing comfort and aesthetic appeal, furnishings should be durable enough to withstand frequent use while offering key features such as proper storage compartments for books and forms that enable efficient check-in experience. This blog post explores how various pieces of understated but well-designed furniture combined with technological assets can empower operations teams to create outstanding guest gratification from the moment a visitor arrives at their serviced apartment.


A Story from the Writer's Personal Experience
Recently, one of the writers for Novox Inc. went on a holiday in the Klang Valley in Malaysia. He had chosen to stay at one of the newest serviced residences in the Kuala Lumpur City Center, with two towering serviced apartments.
Upon entering the main entrance into lobby space, immediately he knew it was a new space for hospitality and it was grand. There were a few reception counters with reception staff and seating areas for visitors.
However, when the time to check-in came, there was no "official front desk" for the particular brand of serviced apartments he had booked with. The supposed front desk counters were located at the low parapet walls enclosing the lobby seating space for visiting guests, where receptionists were standing in the lobby seating area.
Booking visitors feel confused which of these official or unofficial front desk reception counter" they should and had to ask for directions; the writer did so too and felt the organization was poor.
The "low parapet wall" as a guest reception desk is not professional nor welcoming. Occasionally, the writer could not hear what the receptionist was communicating because behind the front office staff were other visitors chatting at the lobby seating.
These made the design of the lobby and the guest services less of the substance and more on the form; more convenient for the front office staff than the checking-in guests.
Despite the front office team and their front office manager being warm, welcoming and courteous, on top of a speedy check-in process with their updated guest services technology and electronic paperwork, it is just poor brand communication for the hospitality business.
The lack of a proper reception counter served no justice to the sleek design style of the interior of the service apartment nor the brand of the hospitality business.
It also did not give the front office staff proper reception counters, diminishing their ability to perform their responsibilities and duties as professionally as possible.
Reception is the Critical Customer Touch Point for Hospitality Experience
The first impression and the majority of the crucial moments in a hospitality experience are handled at the reception area, when guest services are processed and their guests' special requests are attended to.
This is the time when a property's personality and culture are conveyed, with the front office staff playing a key role in making customers feel comfortable.
"The reception deals with most of the critical moments,
which will determine guest satisfaction or dissatisfaction."¹
Consequently, an inviting and efficient reception area design is essential for creating memorable guest experiences. The right front desk equipment should help you create a seamless check-in experience for your guests.
Additionally, incorporating technology into the reception area such as tablets can help speed up guest registration and e-paperwork. On top of what are mentioned, adequate led lighting behind the counter enables front office staff to respond quickly to manage other duties including calls or online inquiries without missing a moment engaging the guests in an experiential manner.
With these solutions in place, front office operations teams can better ensure high guest satisfaction once a visitor enters their serviced apartment.
Lobby Hotel Design Considerations to Help Optimize Reception Desk Functionality
Reception desks should be designed for ergonomic use and user-friendly access to assets and materials. The desk must also provide the necessary storage compartments, shelves and drawers to store office supplies, documents and other necessary items.
The layout of the reception counter should be carefully planned so that guests can easily approach front desk personnel without getting in the way of staff activities.
Furthermore, the reception desk should be placed in a strategic spot where it is easily visible from all areas of the lobby.
Finally, having comfortable seating for guests waiting to in the lobby space and other technology resources such as a digital TV to entertain restless young visitors, or charging station for recharging mobile phones for any visitors' convenience during their wait to checking-in, adding creative service value and delight into any guest's hospitality experience within the lobby space.
Rising Expectations for Customer Experience
In today's post-pandemic hospitality industry, the demand for high-quality customer experience (CX) is continuing to rise.
This means that serviced apartments must provide their guests with not only a seamless check-in experience, but also aesthetically pleasing and welcoming reception areas.
So strategize your CX and professionalize your hospitality business with the right lobby reception furniture and equipment for your serviced apartment lobby to create a memorable experience for your guests.


Contact our sales team via sales@novoxinc.com to discuss your custom furniture design for your serviced residence lobby with our designers. We have our manufacturing centers and can ship to any city such as Dubai, Abu Dhabi, Jeddah, Doha, New Delhi, Singapore, Kuala Lumpur, Bangkok, or any country market in the Indo-Pacific.
To discover new designs of our Novox® brand of complete furniture and equipment range to suit your hotel or restaurant business of different styles, do check out our products online. We have a full range collection of contemporary designs as well as timeless classics.
To find out more about our Innov™ designer hotel furniture for hotel lobbies, request a catalog here or head down to our Singapore showroom to see the beauty of our designer furniture collection and other furnishing product range for hotels. Do also check out our list of established clients of hotels, meeting venues, and restaurants reference.


¹ Tékhne - Review of Applied Management Studies – Vol. 14. Issue 2. Pages 104-112 (July - December 2016) Hospitality experience: Creating value by the front-desk work analysis and organizational innovation