Good Design Organizing Holders for Your Hotel Room Complimentary Items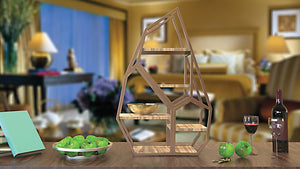 Do you know what is the most popular complimentary item that gives the extra vibe of good service when guests stay into a hotel room? Most hoteliers may think it is their complimentary beverages and snacks including coffee or tea but to hotel guests, those are only the basic standard part of your in-room servicescape strategy. In fact, the most popular complimentary item is actually the fruits.
Fruits are Symbols of Luxury and Abundance, Even They are Just There Visually
Since history, fruits have been widely depicted in classical arts and paintings as symbols of luxury and abundance as they were not always available but only during its fruiting seasons. Today, fruits are much more available due to widespread agricultural growth, modern farming methods and globalized trade. Yet, this does not diminish certain fruits are still a luxury for some people, particularly tropical and citrus fruits to European and Western guests.
For Asian guests, tropical fruits are much more common and accessible, therefore aesthetically good design organizing containers such as fruit baskets, boxes or mini-shelving organizers should be part of any resort or hotel in-room servicescape strategy to elevate visibility of complimentary fruits and improve the atmosphere and ambience of any resort or hotel's brand quality.
Elevate Visibility and Diversify Different Smaller Bunch of Fruits
If a hotel room is small or its design does not allow for a small coffee table, consider elevating the display and visibility of fresh fruits in small bunches in small bowls on our mini-shelving organizer from the Innov™ Slice Collection, nearby the hotel room pantry. Suitable for exotic, golf-sized, seasonal tropical fruits like rambutan and longans, but also plums and cherries. It can also be used to organize displays for bowls of nuts, sweets or other titbits.
The mini-shelving organizer from the Innov™ Slice Collection not only serves as a shelving function but also offers itself as an aesthetic sculpture with varied possibilities of powder-coated colors for its skeleton and wooden shelves.
Innov™ Slice Collection Mini-Shelving Organizer.
Break the Boring and Repetitive Circular Shapes
Exotic tropical fruits are not always available. Hence, the "usual suspects" of fruits such as apples, oranges or pears would be offered and complimentary. Visually, these fruits being round and circular themselves, in multiple quantities, may present as common and uninteresting.
Putting them in a simple round bowl does not make the servicescape design of a hotel room welcoming enough.
Innov™ Line Collection Fruit Bowl.
The Innov™ Line Collection fruit bowl is an art piece on its own. It can break the boring and repetitive circular shapes of apples, oranges or pears that are placed within it. Yet, it is suitable for placing grapes or bananas due to its asymmetrical design in similar abstract aesthetic flow as the bunches of fruits.
Providing Visual Stability
The Innov™ O Collection fruit bowl or tray is another unique piece of design art. At a perspective view angle, it is abstract asymmetry. In front or back view, it is precise symmetry. Regardless of any view, it provides the visual stability to champion visibility of any complimentary items it holds.
Innov™ O Collection Fruit Bowl or Tray.
As such, the Innov™ O Collection's fruit bowl or tray is able to hold a few complimentary items, offering scarcity without compromising the visual idea of luxury. A few fruits, a small bunch of grapes or bananas or even small dessert cakes is enough to satisfy guests momentarily to get them to ask for more.
Email us via sales@novoxinc.com if you are looking for good design for your hotels and resorts.