Host the Perfect Hotel Event: Get Furniture with LED Lighting and Other Must-Have Features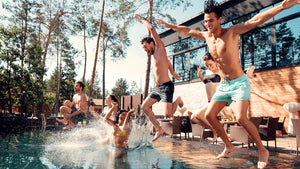 Are you looking to host a hotel event that will be the talk of the town? If so, you need to make sure that you have the right furniture. Furniture with lighting effects can set the tone for your evening and create an ambiance that your guests will love. In this blog post, we will discuss some of the must-have features for your hospitality furniture.
Hotel Events are Generating Revenue
Planning evening events for the hospitality industry has always been one of the key revenue-generating social or business activities for hotels.
But increasingly, as people are liberated from the restrictions of the pandemic life, people are looking forward to relaxing and socializing face-to-face — they are looking for hospitality places not only with good service but also good ambiance.
Quality Furniture with High-Quality Materials and Finishings — But What Else?
When it comes to hosting an event, the furniture you choose set the quality cues for your event theme. However, it is not always pragmatic to change the furniture or extensive decor all the time as it is not cost-effective.
Choosing furniture with a basic and minimalist design that fits your event space that is aesthetically pleasing is the first step. 
After-Dark Events need Hospitality Furniture with Lighting Effects



Increasingly, more hotels are organizing after-dark, evening events, especially on their own rooftop poolside and rooftop bars.
Hospitality furniture with LED lighting is a great way to create a theme party ambiance that your guests will love, while also fighting the brand of your event.
But what kind of furniture might you need for your after-dark event?

Beverage Station with Lighting and Mobile Bar with Drinks Light Box
When it comes to food, many event planners like to offer buffet stations with live show cooking.
This is a great way to wow your guests and gets them talking. You can also have mini buffets or snack buffets for your partying guests who are always moving and dancing to the energy of your event.
(Novox Inc. can design and equip buffet furniture with colored lights to improve the ambiance of your event space.)
Buffet Stations with Changing Lights
No party is complete without music. If you are planning to have a live DJ at your event, then you will need a DJ booth.
This is a great way to add energy and excitement to your event.
(Novox Inc. can design a DJ booth that comes with LED lighting.)
DJ Booth with Cool Lighting
Outdoor sofas, daybeds, side tables, and lounge chairs are a must-have for any poolside.
Outdoor cocktail tables and maybe bar stools are needed for rooftop bars or when the event has catered for beer snacks and drinks.
If you think your event guests would be moving and grooving all the time, bar stools may not be necessary.
Outdoor Furniture
These modern cocktail tables are the perfect mobile furniture for a temporary cocktail reception or snack bars. Besides its central main top, they have drawers of table tops coming out of their sides which provide versatility. 
Final Thoughts



Hospitality furniture with LED lights is a great way to set the tone and atmosphere of your event. It is also an excellent way to promote your brand. Custom-made furniture from Novox Inc. can be designed or altered to your specifications.
Contact and explore with our team via sales@novoxinc.com to discuss your budget, and ideas for your interior projects. We aim to design and custom-build your desired hospitality furniture with lighting effects delivered for you in Singapore and beyond.
To find out more about our existing Innov™ buffet stations, beverage station, mobile bar, or DJ booth, request a catalog here or head down to our Singapore showroom to see the beauty of our furniture collection.