How to Choose the Right Banquet Chairs for Your Hotel: Comprehensive Guide for 2023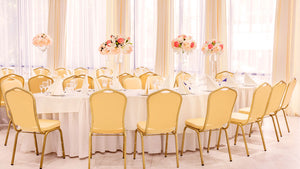 We understand that as a hotelier, the decor of your dining or conference venue is essential in creating a memorable experience for your guests. Choosing the right banquet chairs for your establishment can add to the comfort and aesthetic appeal of your space. This comprehensive guide delves into all aspects of selecting the ideal furniture to bring your vision to life.


Banquet Chair Color and Painting Finish
When it comes to painting finish on a chair metal frame, you'll want something durable and can be cleaned easily, as such an over bake powder-coated frame with gloss finishing is the industry standard for hotel banquet chairs.
Over bake spray paint may be cheaper but it is not but the finishing does not have the durability. Popular colors including dark reddish-brown, black, silver, or gold – are perfect for adding a touch of elegance to your venue's aesthetic.
Banquet Chair Tubing Shapes – Setting Unique and Elegant Style
The tubing shape of the chair leg tubing creates the hotel banquet chairs unique and elegant, giving you the option not to use chair covers.

Novox Inc. banquet chair collections has a selection of tubing styles available.


Even without a chair cover, a banquet chair that is made with a stylish design for chair tubing design will remain a professional-looking banquet chair in your conference rooms or corporate banquet hall.
For maximum stability and durability, we recommend opting for thicker diameter tubes such as our 25mm square tubes instead of 20mm square tubes.
Banquet Chair Back Shape – Dining Chair Design
For optimal comfort, it is important to select banquet chairs with back shapes that are well-designed and ergonomic – rounded backs provide extra comfort compared to straight backs and are great for seating guests for longer periods.
Novox Inc.'s range of banquet chair collections also works as dining or lounge chairs for the waiting area, featuring a variety of back shapes, from soft-sided ergonomic curved backs to classic ladder backs.
Seat and Chair Back Cushion Firmness – Banquet Chair Enhances Comfort
Whether you are seating a crowd of wedding guests or holding a corporate event, you want to ensure your banquet chairs provide maximum comfort that offers softness or firmness as desired.
The firmness and density of the seat cushion can vary depending on your needs, but for long-term use, we recommend selecting cushions with medium to high density (between 38-45 kg/50 square m) as these offer greater support.
Cushion Fabric Materials Selection – Setting the Perfect Ambiance
We also suggest considering fabrics that are moisture absorbent and breathable, such as velvet or microfiber upholstery.

Customization of banquet chairs through selections of chair design, fabric material, and finishing is available with Novox® banquet chairs.
The color and pattern of the fabric for your banquet chair are also important, blending into the perfect ambiance details for your ballroom, dining hall, or restaurant dining room.
We offer an array of fabrics in various colors and designs to match any theme or style.

Flexible Backrest – Banquet Chair that Increased Back Comfort
When it comes to comfort and ergonomics, you may also want to consider chairs with a flexible backrests. This feature is the perfect addition that gives guests the option of adjusting the angle of their chairs while they are seated to alleviate pressure on their lower back.
Novox Inc.'s range of banquet chairs includes chair models with flexible backrests. Choosing the right banquet chairs for your hotel is an important decision that can vastly improve the comfort and aesthetics of your space. With this guide, we hope you have gained insight into the key elements that affect this selection process. Do also check out our blog about factors to consider before purchasing banquet chairs.


Contact our sales team via sales@novoxinc.com to discuss your custom banquet chair design for your hotel ballroom with our designers. We have our manufacturing centers and can ship to any city such as Dubai, Abu Dhabi, Jeddah, Doha, New Delhi, Singapore, Bangkok, or any country market in the Indo-Pacific.
To discover new designs of our Novox® brand of complete furniture and equipment range to suit your hotel or restaurant business of different styles, do check out our products online. We have a full range collection of contemporary designs as well as timeless classics.
Download our Novox® hotel furniture and equipment catalog for hotel furniture here or visit our Singapore showroom here and allow us to demonstrate our furniture and hotel equipment functions and show you its quality. Do also check out our list of established clients of hotels, meeting venues, and restaurants reference.