Portable Stage vs. Modular Stage: Which is Right for Your Venue?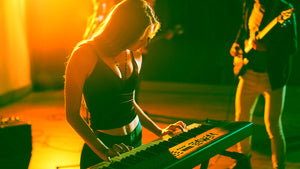 When it comes to choosing a stage for your venue, there are many factors to consider. Do you need a portable stage that can be easily collapsible and transported? Or would a modular stage be a better fit, allowing you to configure the stage in any way you want? In this blog post, we will discuss the pros and cons of both portable stages and modular stages, so that you can make an informed decision about which type of stage is right for your needs.
Differences in Usage between Portable Stage and Modular Stage
First and foremost, it's important to understand the differences in usage between portable stages and modular stages.  Portable stages are typically used for small events that require a stage to be set up quickly and easily.
Modular stages, on the other hand, are more versatile and can be used for a variety of different events, both large and small. Modular stages can be reconfigured to fit any space, making them ideal for larger venues.
Portable Stage

Portable stages are simple as they sound — stages that can be easily transported and collapsible. They are often made out of sturdy materials like steel to make this portable stage platform safe for users.
Portable stages are a good choice if you need a staging system that can be moved on wheels, is easy to unfold and set up quickly, and folded up to move back to storage just as quickly by a single man.
Modular Stage Platform
Modular stages, on the other hand, are less compact even though they can be collapsible. However, this also means that they require more space not just for storage but also space for moving them between the performance site and storage.
Not to mention the transport vehicle and/or forklift that may be required, especially if you are running an event company or have major distances to cover between storage and performance sites.
If you are storing and performing modular stages within your venues such as a convention or exhibition center, a modular and portable stage platform is designed to be collapsible on wheels while able to carry its staging panels and structure's weight, as well its accessories.
Modular staging systems allow you to configure the stage in any way you want, making them perfect for venues with unique space constraints and ground leveling issues.
So Which Type Of Stage is Right for You?
That depends on a few factors. Here are a few things to consider when making your decision:
What is your budget?

How often will you need to set up and take down the stage?

How much space do you have for the stage?

What type of events will you be using the stage for?
Portable stages are typically more affordable than modular stages. They are also easier to set up and take down, making them a good choice for venues that need to set up and take down the stage regularly.
Portable stages are not suitable for bigger event performances while the inherent size of modular stages may not fit the space of the venue of the hotel, restaurant, or facility.
The modular stage platform is more expensive than portable stage platforms, but they are also more durable and versatile. If you have a larger budget and you need a stage that can accommodate a variety of events or venues such as schools or churches, then a modular stage may be the right choice for you.
Ultimately, the decision of which stage platform to choose depends on your business type, venue operational needs, or event needs and preferences. Consider these important factors listed above to help you make the best decision for your venue.
Your Partner for Portable Stage Platform Solutions
If you're looking for a high-quality portable stage that is easy to set up and take down, look no further:
Meet with our team via sales@novoxinc.com today to discuss your budget, and ideas designed for the staging platform needs of your stage-building projects.
For full staging solutions, we aim to design, and custom-build with our StageRight™ staging experts from the USA with their high-quality products and deliver them to you in Singapore and country markets in Asia.
To find out more about StageRight™ Staging Solutions, request a catalog
here
or head
down
to our Singapore showroom to allow us to demonstrate their functionalities. For the portable stage for sale that is used in hotels and restaurants, do find out more about our
Novox® Portable Stage
.