Quality Housekeeping Trolleys and Recruiting New Staff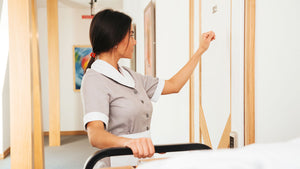 The housekeeping staff shortage is a real issue that hoteliers face today. Not only is it difficult to find good quality housekeepers, but retaining them is another challenge altogether. One way to overcome this challenge is by using quality housekeeping carts. A well-designed and well-made housekeeping cart can make life as a hotelier much easier. In this blog post, we will discuss how housekeeping carts can help you overcome the staff recruitment crisis in the hospitality industry leading to improved customer satisfaction.

The Hotel Staff Shortage in Indo-Pacific Hospitality Industry
In the hospitality business, there is an ongoing challenge to retain and find good quality hotel staff, and this is especially true for housekeepers.
The turnover rate for housekeeping staff is high, which makes it difficult for hoteliers to retain them and attract new talents.
The TTG Asia reports that labor shortages plague hotel brands across Singapore, Malaysia, and other areas in the Indo-Pacific market. The staffing crisis is hurting housekeeping operations and customer satisfaction. The report goes on to say that the staff shortage is most severe in entry-level positions, such as housekeeping.
There are several reasons for the hotel staffing shortage. Firstly, the nature of the work is physically demanding and many people are not willing to do it.
Secondly, the pay is often low and there are few benefits. Finally, the hours can be long and unsociable. This makes it difficult to attract and retain good staff.
As a result of this staffing crisis, hotels are struggling to maintain high standards of cleanliness. This is hurting guest satisfaction levels and service quality.
To combat this problem, it is essential to have the right equipment in place. Having an adequate and well-stocked housekeeping trolley can make a big difference in the efficiency of your operation and promptly answering to your customers' cleaning or consumable top-up request.
What is a Housekeeping Trolley?
A housekeeping trolley is a wheeled cart that is used to transport cleaning or stock of consumables and hygiene supplies around a hotel, to various room locations. It is an essential piece of service equipment for any hotel housekeeping department.
There are many different types of housekeeping trolleys on the market. The most popular style is the two-shelf trolley, which is perfect for transporting cleaning supplies and linen.
Other options include three-shelf trolleys, which are ideal for larger properties, and four-shelf trolleys, which are perfect for carrying heavier loads and usually loaded with guest supplies such as linen, shower gel, mini bar items, etc. The housekeeping cart may include a linen bag and/or a disposal bag, as well as adjustable shelves to compartmentalize items.
When choosing a housekeeping trolley, it is important to consider the size of your property and the type of loads you will be transporting. You should also consider the budget and cost you have to work with.
Key Features of Good Housekeeping Carts
There are several key features to look for when choosing a housekeeping cart. Firstly, it is important to choose a trolley that is constructed to its functionality, designed with a unique form, made from high-quality materials (such as plastic and aluminum or steel), and has an ergonomic handle.
This will ensure that it is durable and can withstand the rigors of daily use. The housekeeping carts should have adjustable shelves to compartmentalize the stock of guest supplies.
Secondly, you should choose a housekeeping cart with lockable, rubber swivel caster wheels, which will make it easy to maneuver within the hotel facility.
Finally, you should choose a housekeeping cart with plenty of storage space. This will ensure that you can transport all of the customers' consumables, cleaning supplies, and linen you need without any problems.
How Quality Housekeeping Trolleys Can Help
A durable housekeeping cart can help hoteliers in several ways. First, they can help to make your job as a hotelier easier by moving around your hotel room or suite to the housekeeping amenities room.
This can help housekeepers to save time and energy, which can be better spent on other tasks.
Second, a housekeeping cart can help to improve the appearance of your hotel service. When guests see that there is a fully stock-up housekeeping cart, they will be impressed and confident with the level of care and readiness for the guests to be customer-oriented.
Finally, a housekeeping cart is key hotel equipment that can help to improve the morale of your staff.
Providing a housekeeping cart that is designed in a more elegant form, that breaks away from focusing on functional tradition, enables a sense of workplace dignity for the housekeeping profession than just being a hotel room cleaning attendant.
They will feel appreciated and valued. This can help to reduce turnover and improve retention rates.
They can help to make your job as a hotelier easier, improve the appearance of your hotel brand, and increase staff morale. All of these benefits can help to improve your bottom line.
Showcase the Housekeeping Profession its Prospects and the Hotel Equipment
If you are looking for a way to overcome the staffing crisis in the hotel business, show job seekers that your hotel brand means business, by showcasing professional housekeeping training, uniform discipline, and wearing of accessories.
Demonstrate how to operate the back-of-the-house hotel equipment, and working skills to clean furniture in a hotel room, and the professionalism that is needed by job seekers.
Create An Overview of the Housekeeping Career and Address Their Other Needs
For a job seeker, providing a complete overview of a rewarding housekeeping career is important.
The overview should communicate about the company culture and housekeeping career prospects that can include a promotion roadmap for becoming housekeeping managers or operation managers.
The overview should also address basic benefits and social opportunities about employee amenities provided by the company, staff meals menu, and also what's fun and interesting while performing the functions of being a housekeeping professional while connecting hotel guests as well as with other fellow hoteliers from other departments.
This allows the job seeker to see the key advantage in the career beyond just benefits revolving around money, so they can sign up for the hotelier position.
Your commitment to your housekeeping staff's career needs is the customer-oriented business goal of your hotel business and creating a better room environment for your customers.
Contact us via sales@novoxinc.com if you search or source for hotel equipment. To find more about Novox® equipment for hotels and restaurants, check our products online or click here to download and browse our catalog.
Blog post's featured image of a housekeeper knocking on the hotel door for room service was created by drobotdean – www.freepik.com