The Art of Banquet Table Arrangements: Tips and Trends in the UAE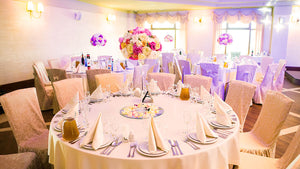 The banquet table is the focal point of any significant occasion, and the United Arab Emirates is renowned for elaborate celebrations. Any event, whether it's a lavish wedding in Dubai, a corporate gala in Abu Dhabi, or a cultural festival in Sharjah, benefits greatly from the art of banquet table arrangements in terms of creating the right atmosphere. We'll look at the ideas and styles that are influencing banquet table settings in the UAE in this blog.


Opulent Centerpieces: Elevating UAE Banquet Tables with Luxury

One of the enduring trends in the UAE's banquet table arrangements is the use of opulent centerpieces.
These statement pieces often feature a blend of fresh flowers, crystal elements, and candlelight, creating a luxurious and romantic atmosphere.
Peonies, roses, and orchids are among the favorite flower choices for these arrangements, and they are usually paired with gold or silver accents to enhance the sense of grandeur.
Geometric Minimalism: Modern Elegance at UAE Events
While opulence remains a staple, there is also a growing trend towards geometric minimalism in banquet table arrangements.
Simple yet striking geometric shapes like hexagons, cubes, and cylinders are used for vases, candle holders, and even place card holders.
These clean and modern designs add a touch of sophistication to the table setup, often complemented by monochromatic color schemes with occasional pops of metallic hues.
Cultural Fusion: A Tapestry of Traditions on UAE Banquet Tables
In the UAE, where diverse cultures come together, banquet table arrangements often reflect this cultural fusion.
Couples and event planners are incorporating elements from various traditions, creating visually stunning tablescapes.
For example, you might see Arabic lanterns alongside Asian-inspired tableware, resulting in a harmonious blend of aesthetics that celebrates diversity.
Sustainable Choices: Eco-Conscious Banquet Tables in the UAE
Sustainability is not just a global trend; it has also made its way into banquet table arrangements in the UAE.
Event organizers are opting for eco-friendly choices, such as reusable tableware, recycled paper decorations, and potted plants as centerpieces.
These choices align with the growing awareness of environmental responsibility and are well-received by eco-conscious clients.
Mix-and-Match Tableware: A Playful Palette for UAE Banquet Tables
Gone are the days when every piece of tableware had to match perfectly.
Today, there's a trend toward mix-and-match tableware that adds a unique and eclectic touch to banquet tables.
Different patterns, textures, and colors are combined to create visually appealing and whimsical tablescapes.
Illuminated Tables: Enchanting UAE Evenings
Illuminated banquet tables are making waves in the UAE event scene.
LED-lit tables or tables adorned with fairy lights underneath translucent tablecloths create a magical and enchanting atmosphere, especially for evening events.
This trend adds a touch of enchantment to weddings and corporate gatherings alike.
Customization and Personalization: Tailoring UAE Banquet Tables
Personalization is key in the UAE's banquet table arrangements. Event organizers are increasingly tailoring table settings to reflect the personalities and preferences of the hosts.
Customized menus, monogrammed table linens, and personalized place cards are some of how hosts are adding a personal touch to their events.
Desert Chic: Embracing UAE's Natural Beauty
Embracing the natural beauty of the UAE's desert landscape, "desert chic" is a trend that incorporates elements like sand, succulents, and dried palm leaves into banquet table arrangements.
Earthy tones and rustic textures create a warm and inviting atmosphere that is perfect for outdoor events in the UAE.
Overhead Installations: Elevating UAE Banquet Tables to New Heights
Banquet table arrangements are not limited to what's on the table itself.
Overhead installations are gaining popularity in the UAE, with suspended floral arrangements, crystal chandeliers, and drapery creating a sense of grandeur and drama.
These installations not only add visual interest but also make the most of vertical space.
Virtual Elements: Bridging the Digital Divide at UAE Events
In a world where hybrid and virtual events are becoming the norm, banquet table arrangements are evolving to accommodate the digital landscape.
Incorporating screens or holographic elements into the table design allows virtual guests to feel more connected to the physical event, blurring the lines between the real and virtual worlds.
Collapsible Round Table: Space-Saving Options for UAE Events
When it comes to banquet tables, versatility is key. Consider the collapsible round table, a space-saving option that can be used for both indoor and outdoor events.
In light of the need for adaptable banquet tables, the collapsible round table presents itself as a solution that is both flexible and conserves space.
Suitable for both indoor and outdoor gatherings, our forthcoming product review will delve into the multitude of options available, tailored to fulfill the unique requirements of event planners in the UAE.
Round Folding Table: Seamless Elegance for UAE Functions
Round folding tables are a practical choice for events of varying sizes.
With options ranging from 6 to 12 seats, you can easily adapt your banquet table arrangement to suit your guest list.
Discover how these banquet tables combine functionality with elegance in the UAE event scene.
Dining Table: Transforming Banquet Tables into Feasting Paradises
Banquet tables are more than just decoration; they serve as the stage for sumptuous feasts. In the UAE, dining tables at events are designed to create an immersive gastronomic experience.
From the layout of the silverware to the presentation of the menu items, each aspect is meticulously planned. It's not uncommon to find tables adorned with a lavish spread of traditional Emirati cuisine, alongside international dishes, catering to the diverse tastes of the guests.
This fusion of flavors, beautifully presented on exquisite tableware, truly transforms banquet tables into feasting paradises.
Folding Table: Versatile Choices for UAE Event Planners
Folding tables offer the versatility that event planners in the UAE appreciate. Folding ables that fold offer an adaptable choice that UAE event planners value.
Learn how these versatile tables can be effortlessly incorporated into a variety of banquet table setups, for indoor and outdoor events here.
Banquet Chairs: The Perfect Complement to UAE Banquet Tables
Selecting the right banquet chair is as crucial as choosing the table. With the right custom fabric, chair frame and finishing, discover how they can complement the overall look and feel of your UAE event.
In conclusion, the art of banquet table arrangements in the UAE is a dynamic and ever-evolving field. While extravagance and luxury still take center stage, cultural fusion, personalization, and sustainability are receiving more attention.
Keeping up with these trends may help you design an amazing banquet table arrangement that will leave a lasting impact on your guests, whether you're organizing a wedding, business event, or any other special celebration in the UAE.


Contact our sales team via sales@novoxinc.com to discuss the folding banquet tables that work for your hotel or convention center venues with our sales team. We have our manufacturing centers and can ship to any city such as Dubai, Abu Dhabi, Jeddah, Doha, New Delhi, Singapore, Bangkok, or any country market in the Indo-Pacific.
To discover new designs of our Novox® brand of complete furniture and equipment range to suit your hotel or convention center business of different styles, do check out our products online.
Find our Novox® hotel furniture and equipment catalog for hotel furniture here or visit our Singapore showroom here and allow us to demonstrate our furniture and hotel equipment functions and show you its quality. Do also check out our list of established clients of hotels, meeting venues, and restaurants reference.