The Seating Elements of Hotel Restaurant Design: From Custom Restaurant Chairs to Banquette Seating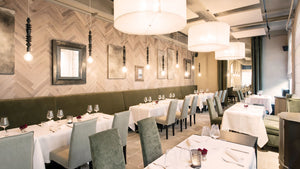 Hotel restaurant design is a critical part of the hospitality industry. Guests expect a certain level of sophistication and elegance when they enter a restaurant located in a hotel. The best designers know how to create an inviting space that meets the needs of both guests and staff. In this blog post, we will discuss some of the key elements of successful hotel restaurant design. We will be focusing on the seating aspects and talk about custom restaurant chairs, dining chairs, and banquette seating, all of which are essential components of any great design scheme.
Design With Restaurant Brand Personality and Theme In Mind
The restaurant chairs, dining chairs, and banquette seating in your hotel restaurant should all be selected with the overall brand personality and theme of the restaurant in mind.
The chair and seating furniture should reflect the style of the restaurant and contribute to the desired atmosphere.
For example, if you are going for a more formal look, you will want to choose chairs with a more traditional design. If you are going for a more casual vibe, you may want to select chairs with a more contemporary look. 
Balancing Ambiance with the Demand for Seating Capacity
When selecting restaurant chairs, dining chairs, and banquettes for your hotel restaurant, it is important to strike a balance between ambiance and seating capacity.
You want to create inviting spaces that guests will enjoy spending time in, but you also need to make sure that the furniture does not overcrowd the restaurant. Be sure to take accurate measurements of the walking spaces and table sizes before making any final decisions. 
Dining Group Size – Dining Chairs vs. Dining Table
Another important consideration is the dining group size. This will help you determine whether you need restaurant chairs or dining chairs.
Dining chairs are typically used for groups of four or more, while restaurant chairs can be used for smaller parties. If you want to create a more intimate setting, restaurant chairs are the way to go.
They can be pulled up close to the table, which allows for more intimate conversation. Dining chairs, on the other hand, are best suited for larger groups. They provide a more formal setting and can be arranged around a large table.
Banquette seating can also be considered but they are more fixed. We will discuss banquette seating more later. 
Custom Restaurant Chairs vs. Dining Room Chairs
There are benefits to both custom restaurant chairs and dining room chairs. Custom restaurant chairs offer the opportunity to create the sort of unique look for your restaurant that cannot be achieved with off-the-shelf furniture.
Dining room chairs, on the other hand, are often more expensive due to more extensive upholstery. Ultimately, the best option for your restaurant will depend on your budget and design goals. 
Banquette Seating for Hotel Restaurants
Banquette seating is a great way to add extra seating to your hotel restaurant without sacrificing spaces or ambiance. Banquettes can be built into corners or along walls or between dining groups, while they can be upholstered to match the other seating in your restaurant space.
Banquette seating can be upholstered in different styles of fabric or synthetic leather materials with the right color and texture and outfitted with pillows and other accessories to create comfortable and inviting spaces feeling more like home.
These create a better sense of touch and feel of comfort, especially when using custom fabric. It is recommended to upholster the banquette seat with synthetic leather if you want easy-to-clean seat surfaces if you plan to use fewer people at the front of the house.
The high backrest of the banquette seat helps increase the privacy of the dining area, especially when built in a roundel manner.
When designed correctly, banquettes can provide both guests and staff with a comfortable place to sit and enjoy a meal. Increasing the ratio of banquette seating versus dining chairs reduces the need for more seating, reducing clutter and therefore creating a uniform, minimalist look and visual comfort in the restaurant. 
Conclusion
When it comes to hotel restaurant design, seating is one of the most important aspects to consider. Custom restaurant chairs, dining chairs, and banquettes each have their own practical benefits for your design choice in creating an inviting and sophisticated space.
Be sure to keep the overall brand personality and theme of your restaurant in mind when making any decision on indoor and outdoor furniture, or the types of frames, legs, and material. And, most importantly, strike a balance between ambiance and seating capacity to ensure that your restaurant is both comfortable and functional while ensuring a modern look. 

Can't decide what you need or are not able to find anything suitable that you prefer? Explore your design with us via sales@novoxinc.com to discuss your custom restaurant dining chairs. We can support your sourcing and design needs while delivering anywhere in Singapore, the Indo-Pacific, and beyond.
Discover our Novox® furniture today and check out our products page online or click here to download and browse our catalog for more products. If you are interested to find out more about our Novox® indoor restaurant furniture collection, you can choose to visit our Singapore showroom to check out their material quality and other details of our dining chair.