How to Design Hotel Ballrooms with Furniture that Diversify Event Potential beyond Weddings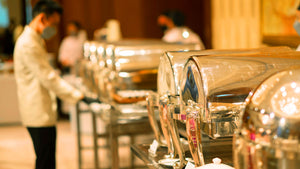 Hotels owners and interior designers are always looking for new event ideas to bring in more business. When designing a hotel ballroom interior, it's important to take into account the hotel brand's style, as well as the ballroom or banquet hall size, shape, and potential partitions of the ballroom. But beyond weddings, corporate dinners, and business conferences, what other types of events could your hotel ballroom host? Consider gourmet festivals, art exhibitions, or fashion shows. By mixing different types of banquet tables, chairs, mobile buffet stations, and modular buffet systems you can create an interesting and successful event design that will draw in new endless possibilities for any event.


Interiors of hotel ballrooms are frequently created with weddings in mind. Yet, a ballroom or banquet hall can also be used for a wide variety of other occasions. There are several things to take into account to make the most of your hotel's ballroom or banquet hall's event possibilities. This covers the hotel's design and theme as well as the room's size and shape.
You should also consider the kinds of events you intend to hold and complement the venue. You can make an environment that is ideal for any kind of event by using banquet tables, seats, mobile buffet stations, and a modular buffet system in your design.
Ballroom Furniture for Gala Dinners and Dance Corporate Events

Gala dinners and dance corporate events are the most traditional ballroom events in any ballroom or banquet halls. Round banquet tables, banquet chairs, performance dance floor, and staging equipment can be utilized for these events.
The ballroom should have ample space for guests to move around freely as well as enough seating for all guests to be comfortable. As well as providing comfort with banquet and buffet furniture, you should also consider the aesthetics of the room by including decorations, linens, and centerpieces that enhance the look of your event.
If there are dances at the ballroom, you should also consider space for dancing. An area with dancefloor panels and an appropriate flooring option is ideal for this purpose.
For ballroom equipment, take into consideration your stage spacing needs such as speeches or performances, to have a speech podium on stage, and consider either a portable stage or other performance staging solutions.
Buffet Tables and Live Cooking Stations for Gourmet Festivals

Gourmet festivals and food-related shows are great opportunities to showcase a ballroom. For this type of event, banquet tables, mobile buffet stations, and a modular buffet system are essential pieces.
Along with banquet furniture, you should also consider mobile buffet stations where the chefs can cook the dishes in front of guests. Food that is ready for serving can be placed on a buffet station with hot lamps or electrical stoves keeping food warm, or the refrigerated, cooling display case or ice box to keep food cold. Alternatively, you can have chafing dishes on customized nestable buffet tables or modular buffet systems that are easily assembled and disassembled.
This will engage the guests while they dine as well as provide an interesting gourmet viewing experience. Additionally, you may choose to use decorative items such as centerpieces that add to the ambiance of the ballroom for these events.
Furniture and Equipment for Art Exhibitions and Fashion Shows

If you're looking to host an art exhibition or fashion show in your ballroom, there are different kinds of staging furniture needed such as podiums, stage risers, and flexible seating.
Podiums are great for emcees and special guests, while stage risers provide a platform for performers or models to stand on. Flexible seating can be used as either audience chairs or catwalk-style seating that wraps around the ballroom space.
Additionally, banquet furniture can be utilized for catering services and refreshments during the show. A stylish mobile bar and designer cocktail table in place at various convenient spots are not only functional but also make the show more appealing and personalized service to guests required as a private socializing space.
Designing Versatile Ballrooms

By utilizing furniture and equipment according to the type of event, you can create an interesting and successful event design that is sure to draw in more business.
Creating versatile ballroom designs should be the goal of any hotel owner or interior designer when planning a ballroom's event possibilities. With banquet tables, mobile buffet stations, and flexible seating, furniture can be easily changed to create a unique and successful event design.
By mixing different types of furniture you can ensure your ballroom will attract guests for a variety of events. So whatever type of ballroom event you're planning, make sure to consider the right furniture that fits your needs. This will ensure your ballroom events are successful, unique, and enjoyable.
Meet and explore with our team via sales@novoxinc.com today. We can discuss to match your budget and explore solutions designed to fit the buffet experience in terms of functionality and style. We aim to design and custom-build your desired hospitality furniture delivered for you in Singapore or any Indo-Pacific hospitality industry market beyond.
To find out more about our existing Innov™ mobile buffet stations, buffet nested tables, modular buffet system, mobile beverage station, or more, request a catalog here or head down to our Singapore showroom to see the beauty of our buffet furniture and equipment products.