In-Room Dining: The Secret to Boosting Hotel Revenues for 2023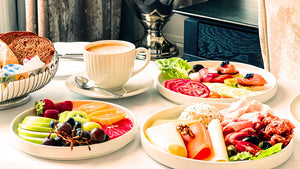 With the global pandemic now under control, countries have reopened their borders and hotels are seeing a surge in guests. The hotel industry has been struggling with a manpower shortage for some time now, and it is only going to get worse as more people return to work. To stay competitive, hotels need to find new ways to improve their revenue market share. One way they can do this is by improving their in-room dining options. This will not only encourage guests to stay longer but will also bring in new customers who might not have considered staying at a hotel before.
Have a Visible Menu Offering Cuisines in Variety and Make them Convenient to Order
One way that hotels can improve their in-room dining options and boost hotel revenues is by providing more variety on their menu. This could include a wider selection of breakfast items, as well as lunch, dinner, and supper options.
Another way to improve in-room dining is by making it more convenient to order in-room dining for guests. For most in-room dining orders, guests would have pre-ordered their meals in advance either from a menu list on the writing table or smart TV in their hotel room. They could either order via the smart TV or phone.
Instead of a traditional phone, some hotels have complimentary smartphones for hotel guests to use in their hotel rooms to be used within their rooms or when they head out of their hotel to explore. Within the hotel room smartphone, there can be an app with a menu for ordering in-room dining meals.
Hot Meals Kept Warm from Hotel Restaurant Kitchen
Before every in-dining meal is served, the restaurant kitchen staff as well as restaurant-hotel servers would be exceptionally busy. Due to the number of ordered meals, some in-dining meals might be ready but restaurant-hotel servers may be busy serving earlier orders.
To ensure quality meals that had been prepared are kept warm enough not to get over-cooked or dry out easily, till when hotel guests are truly ready to enjoy their food in their rooms, most of the meals would be kept warm in electric food warmers loaded on top of food warmer racks usually in the kitchen.
When the servers are ready to deliver in-dining meals to hotel rooms, all the staff need to do is unload the electric food warmer (or hot box) from the rack and place the hot box on the room service trolley. This will make sure the food for guests remains heated while ensuring that they have a table ready in their room to enjoy a meal in their room.
This will not only encourage guests to stay longer but will also bring in new customers who might not have considered staying at a hotel before.
With an efficient and convenient in-room dining system in place, hotels can be sure to boost their revenues and remain competitive in the industry for years to come.
Quality Construction of an Electric Food Warmer / Hot Box
To keep food warm, quality electric food warmers (or hot boxes) are usually double-wall constructed with a stainless steel exterior and an aluminum interior. The electric heating element is fitted at the bottom of the warmer while thermometers are placed in the middle.
The hot box should have two to three layers of shelving to allow the placement of more food dishes in a box, to be delivered to a hotel room's door in one service trip.
Modern electric food warmers should have digital temperature button settings and display to allow for easy adjustments to temperature settings and to allow kitchen staff to have better control over the warm food temperature.
This will ensure that quality hot meals are served when in-dining meals are delivered to hotel guests' rooms.
For the server staff's ergonomic convenience and safety, a quality electric food warmer should have a top handle and a handle on both the left and right side of the hot box for easy handling by the staff.
Electric Food Warmer / Hot Box with the Room Service Trolley
The electric food warmer or hot box is usually placed on the bottom shelf of a room service trolley.
The hot box loaded room service trolley is fitted with rolling rubber-like casters with its tabletop edge protected with T-molded vinyl edges for easy maneuvering by staff throughout the hotel corridors and into rooms without causing any damage to the corridor walls, stone floor, or carpets.
With or without table cloth, the room service trolley's table top is fitted with high-pressured laminate to make it easy to clean.


Contact us via sales@novoxinc.com if you need the assistance of our company to source or design ideas for unique furniture for your hotels and their hotel lobbies.
To find out more about Novox® electric hot box and room service trolley, visit our room service equipment page here or head down to our Singapore showroom to review our hotel equipment function and quality.